Posted on 11/10/2021 by Charlotte Frank
​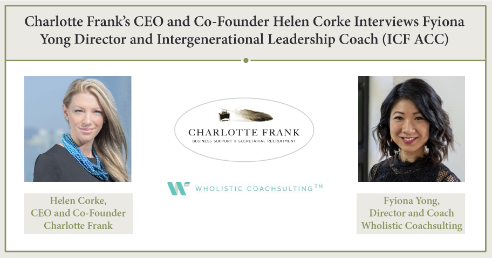 Charlotte Frank's CEO and Co-Founder Helen Corke interviews Fyiona Yong, Director and Intergenerational Leadership Coach (ICF ACC) about the importance of intergenerational bridge building within organisations.
Fyiona is a Generational Bridge Builder, one of the youngest ICF ACC certified Coaches in Asia focused on Intergenerational Leadership Coaching. She is passionate about helping leaders attract, retain and connect with the next generation of talent - and at the same time shape
young talent to become inspiring leaders of the future.
In this Q&A Helen and Fyiona discuss Millennials and Gen Z's needs and wants from their organisations and how employers can engage with them.
Below are Fyionas top tips for intergenerational bridge building within organisations.
Fyiona's Top Tips:
Create a sense of belonging within the organisation.

Focus on the commonalities between generations.

Establish trust between the employer and employees.

Create an inclusive culture when introducing hybrid models.
​
​
You can connect with Fyiona Yong and Helen Corke on LinkedIn, naviagate to their profiles by clicking on their names. ​