Posted on 11/07/2022 by Charlotte Frank
​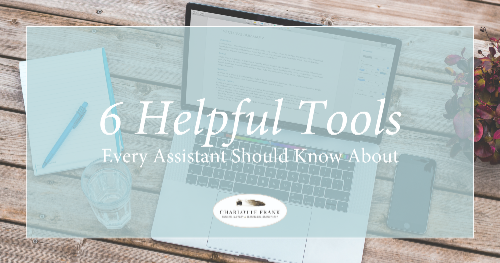 As an assistant the number of hats you wear knows no bounds and therefore it is important that you arm yourself with the best tools and technology in the business. In doing so, you will free up time spent on those tedious tasks and instead be able to get on with the proper work.
In today's blog, we will cover everything you need to know about the best tools and tech for assistants and in turn hopefully enable you to stay on top of your to-do lists and avoid overwhelm and burnout!
​
1) Trello
Trello is a must for any assistant busy with project management and coordination. Trello is a project management tool which is intuitive, user-friendly and allows you to track multiple projects at one. You can create shared workspaces between you and your colleagues, track to-do lists and much more.
2) Office Otter
Office Otter turns your conversations into tasks in one click, even when you're on the go, making this a must-have tool for all assistants. You can create a free account and add Office Otter to your messaging platforms (slack/teams/email). Convert completed items into detailed reports so that you can show your team all that you truly do. On average people save 10 hours per week by using Office Otter!
3) The Assist
The Assist is a weekly email newsletter that delivers tips, tricks and advice for assistants who need to knock out more essential to-do's while also developing personally and professionally. Each issue features carefully curated takeaways on technology solutions, empowerment resources, assistant strategies and so much more. The newsletter also features personal stories and insights sourced directly from a thriving executive assistant community.
4) Calendly
Calendly takes scheduling off your to-do lists so you can get more done. Being able to schedule your meetings, sessions, and appointments allows you to be more efficient and accomplish your goals. When invitees select a meeting slot from your schedule, they only see the times you're available, and only the length and type of meeting you want to have. Your schedule will fill up efficiently, and everyone avoids excess email exchanges!
5) Zapier
Zapier helps you increase productivity without taking on more hours. The platform allows integrations between widely used apps. Zapier automates tasks between different platforms by creating triggers and corresponding actions or 'Zaps' as they call them. A zap can have up to 100 actions and automate an entire process so, a workflow can run while you focus on your other tasks.
​
Finally, Expensify is an online business expense management system. Using a mobile app, employees can upload pictures of receipts and automatically log mileage via GPS. Expensify will alert users to any missing items or repayment hurdles and can administer reimbursements as soon as the day after submission! Administrators can set rules and allowances for individual teammates. Expensify simplifies the accounting and month end closing processes and streamlines business expenditures into one central portal. The app also hosts handy reporting features, making it one of the most useful executive assistant tools.
Although we have only listed 6 platforms today, there are hundreds of amazing tools out there to fit your bespoke needs. Being an assistant can feel like having a world of responsibility on your shoulders, that's why it is important to utilize the tools and tech available so that burden can begin to feel slightly less heavy.