Posted on 23/06/2023 by Charlotte Frank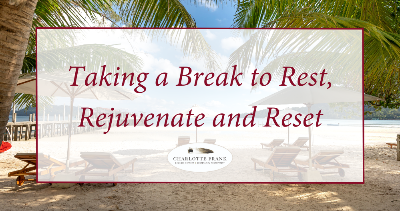 ​It has often been said that vacations contribute to improved life satisfaction. What's even more heartening is that the experiences had while on vacation influence our overall well-being, as we start to clear our minds and view past experiences in a positive light which has a cathartic effect.
It takes a few days to truly unwind on holiday, particularly with the hustle and bustle of life and work in a fast-paced city. Some people can find the first few days on holiday slightly annoying – when restaurant meals arrive slowly, or Ubers are delayed. But after three days, it becomes natural to appreciate the slower pace while also adapting to a non-work, 'nothing to plan/actioning a list' environment.
I must caveat that prior to my own recent holiday, after a successful year with a personal routine that was working for me, I was not naturally inclined to take a break. But with a little encouragement from my boss, a break from 'daily routine' and distancing from deadlines and action lists, was exactly what I needed, and helped to reset my biorhythm.
I was lucky to be able to travel and visit family and lie in front of the Caribbean Sea. Getting 'bored' on a beach is powerful because it can set you free from self-created mental lists, making 'space' to think creatively and freely. The brain is in overdrive until 'holiday brain' properly sets in and allows you to fully decompress and clear your mind.
More importantly, returning home after going at a slower pace is both refreshing and invigorating! With a refreshed lens and an energised positive mindset, I have been able to reassess my routine and do things differently.
Another unexpected benefit from taking a vacation is a newfound upbeat and relaxed mood which ultimately leads to more harmonious relationships. This optimistic aura is transferred to those around you, thus creating a more positive environment for everyone.
Finally, I'm finding my sleep to be uninterrupted and peaceful – a straight 8 hours!
Some signs that you should take heed of needing a break yourself can include:
Feeling burnt out

You've lost your inspiration.

Having a more pessimistic attitude

When you feel you are not being productive at work

You need to connect with family and friends.
I hope this article serves as a reminder to you to take the time away to rest and recharge; more so now that Hong Kong has opened to travel, free of restrictions and masks! So, take the time to plan your vacation, get rest and recharge; then come back and take on life with a refreshed and positive attitude! And if part of your return is feeling like you also need a change of scene with regards to your employment in the business support space, you can reach out to myself at sm@charlottefrank.com.