Posted on 7/04/2021 by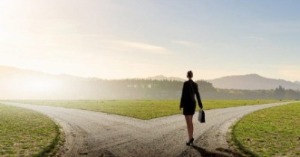 You have two job offers on the table, same EA/PA role but in two very different settings: one at an investment bank whilst the other is at a boutique investment management firm or a hedge fund. Which one should you take? This is a dilemma often faced by many and a hard decision to make. The stage of your career and culture fit can come into play and it is worth speaking to those in your network who work in both settings as well as enlisting the help and advice of your trusted recruitment consultant. You may want to reflect on your personality and current situation, ask yourself a few questions - would you suit a smaller/larger environment? Are you feeling restricted at your current firm? Here we discuss the pros and cons of both environments.
Corporate
One cannot deny the allure of a renowned brand with a strong reputation in the market, it can do wonders for your CV and subsequently open many more doors in the future. It can be a great starting point to launch your career, get a solid foundation, great training and learn best practice. You may even have the opportunity to move overseas or have a secondment to broaden your horizons. On the flip side, you're a small cog in a big machine – your role is likely to be very narrow in focus and siloed. It can be hard to instigate change or progress in these hierarchal environments, not to mention navigating the political landscape.
Boutique
Comparatively, boutiques and smaller entrepreneurial environments can be a breath of fresh air with less rigidity, more freedom to experiment, and greater responsibility. With fewer hands on deck, you can expect to be rolling up your sleeves and wearing multiple hats – gaining exposure to areas and functions you might not have the chance to somewhere more structured. Unique perks (free lunch and snacks anyone?) are the icing on the cake. However, the pace can be quick(er) and things will evolve so you need a high dose of adaptability! Contrary to popular belief, boutiques or smaller firms are not necessarily a riskier option at all. Corporates and boutiques both have their share of good and not so great firms and it is imperative to do one's research and due diligence before making any sort of a move.

What is the right direction to follow? One size doesn't fit all but it is worth exploring and trying out different environments, pushing boundaries for self-development as well as to understand oneself better. Having experienced both myself, I am well aware of the merits and imperfections of each but now tend to lean towards smaller entrepreneurial environments (I may be slightly biased being part of a boutique recruitment consultancy!). What is certain is that the global and corporate landscape is constantly evolving and it is crucial to adopt a growth mindset; to be open to learning and developing your skills, in order to stay relevant and have your pick of the crop. Similarly, businesses need to adapt and those offering more flexibility and more agile working arrangements will no doubt be more appealing in these uncertain times. If you're currently at a crossroads in your career or wondering whether the grass is, indeed, greener, feel free to reach out for a confidential discussion below: