Posted on 1/02/2022 by Charlotte Frank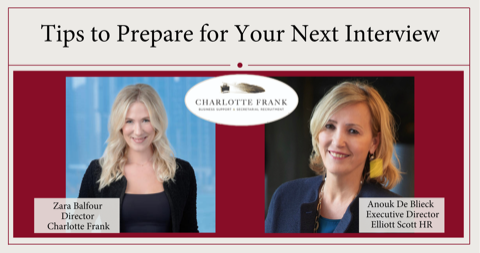 ​​Happy 2022 everyone! Are you thinking of making a change in your career this year?
Director of Charlotte Frank, Zara Balfour interviewed Anouk De Blieck, Senior Leader Advisor and Executive Advisor at our sister company Elliott Scott HR to talk about her tips on how to prepare for your next interview.
Anouk has taken part in and conducted many interviews in her extensive career spanning over 30 years, today, she shares some of her insights with you on how you can best prepare for your next venture.
Key Discussion Points:
Advice for making a move in your career

Career coach or online resources, what could work best for you

How to best prepare for any interviews ahead

How to be strong and confident when asking for a salary increment.
​