Posted on 26/09/2023 by Charlotte Frank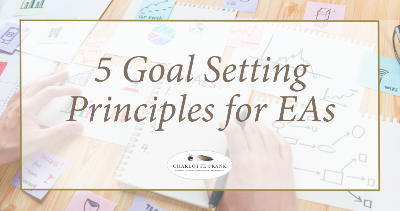 ​One of the most highly valued skills as an Executive Assistant (EA) is being organised. EAs have a lot to balance in their everyday work schedules, with many tasks falling under their remit. Although even the most efficient and organised individuals can struggle to stay focused and manage their workload from time to time.
​
What should you do when you can't seem to focus on work?
Research has shown that goals can help to accelerate your success. Setting goals is a great way to increase efficiency, optimise your time and be more productive. Goals give you a pathway to follow, they are a great tool to hold accountability, have something to aim towards and help prioritise tasks.
In 1990, researcher's Locke and Latham published a book called 'A Theory of Goal Setting & Task Performance'. In this book there are 5 goal setting principles that can improve yourchances of success:
1-Clarity
2-Challenge
3-Commitment
4-Feedback
5-Task complexity
​
Clarity
Having clear goals helps you to know what you are trying to achieve, when goals are vague, they are not easy to measure and become unmotivating. You can set clear goals by ensuring they are SMART (Specific, Measurable, Attainable, Relevant), think about the task and how you will measure your success.
​
Top Tip: It is also a good idea to keep these written down, having a visual aid that you can refer back to, will help to keep you on track.
​
Challenge
Many people are motivated by challenges, the 'perfect goal' should bring you excitement and challenge you to achieve the most. However it is important to stay realistic here, setting goals that are so challenging they can't be achieved can be discouraging.
​
Commitment
Take ownership of your goals, keep them written down and tick them off as you achieve them, stick to your set deadlines. The more you steer away from the goal at hand the less motivated you'll be to achieve them, when you are already busy and trying to stay on top of your work making sure you are committed to the goals you have set helps you to not fall behind.
​
Feedback
Check in with your Executive and receive regular feedback, this will give you the opportunity to adjust your goal and re-evaluate if needed. Asking for feedback on a task also shows great communication skills and opens up the opportunity for you to analyse your work and change your style if need be.
​
Task Complexity
If a task is more complex, ensure you are giving yourself enough time to complete it, give realistic expectations to those that are impacted by the task based on your capacity of work and the complexity of the task.
​
Top Tip: If you are working on a particularly challenging task, set smaller goals that build up to achieve the bigger task at hand.
​
Setting goals will help you to achieve tasks during busy periods and work to your best ability. If you follow the above guidance it will help you to set efficient goals and set you up for success.
​
References
https://www.successstartswithin.com/blog/importance-of-goal-setting
https://positivepsychology.com/benefits-goal-setting/#:~:text=Goals%20give%20us%20a%20roadmap,also%20helps%20us%20prioritize%20things.
https://www.briantracy.com/blog/personal-success/goal-setting/
https://www.mindtools.com/azazlu3/lockes-goal-setting-theory
https://www.betterup.com/blog/how-to-set-goals-and-achieve-them#10-tips-to-achieve-your-goals%C2%A0
​