Posted on 17/05/2023 by Caytie Wells
​I work in administration and am super nerdy when it comes to things like stationery and to-do lists (we all have our strengths!), but one thing I do pride myself on is being organised, and doing so quickly. For anyone starting out in a support role, below are some basic tips when it comes to supporting your Executives or colleagues with speed, accuracy, and efficiency.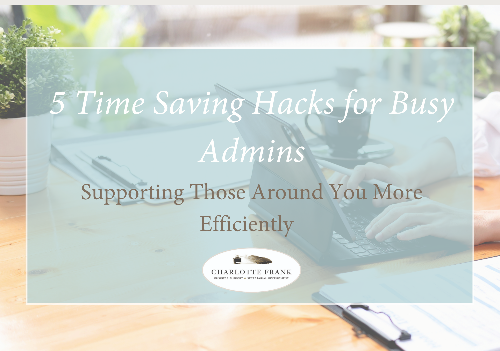 ​
1. To-do lists!
Over the years I have witnessed many different ways colleagues have gone about keeping track of their "to-do" lists. From post-it notes all over their screen, notebooks with little self-drawn check boxes, to apps like Evernote. No matter what it is, find what works for you and go with it - whatever gets the job done!
​
2. Keyboard shortcuts – get to know them.
The shortcuts available to do simple tasks just make life easier. From copy + paste to hitting a few keys to record your screen and voice (great for training or "how to" videos!) the options are endless. I highly recommend visiting a website such as Lifewire, where you can find multiple articles on Mac and app shortcuts. When it comes to shortcuts, once you learn them they become second nature and will save you loads of time.
​
3. Use your devices!
Download apps to your phone that will help with your day. If you are stuck for words, try using ChatGTP to help with ideas, or my personal favourite is the Time Buddy app, which helps you easily identify time zones across multiple cities globally. If you are tasked with organising a Zoom meeting or conference call, just pick your date and time, and the cities you need to compare and the app does the rest for you.
​
4. Get socially savvy.
If organising events is a part of your role, keep your finger on the pulse when it comes to restaurants and venues for client and VIP entertainment recommendations. Follow lifestyle pages such as Honeycombers, Sassy Mama, and Timeout (all available in Singapore and Hong Kong). Create a list of restaurants and venues frequently visited by yourself or your colleagues, and categorise them as intimate, business lunch, drinks, and private dining.
​
5. Make use of online templates.
If you work in a smaller boutique firm, you won't often have the luxury of fancy templates that large corporations do. If you are looking to add some consistency and structure to your documents or projects, try using the many Microsoft Office templates that are available online, for things like budgets, project management, and flyers. If you need something a tad more unique, like an invitation, you could check out websites and apps such as Etsy and Pinterest for inspiration, and editing tools such as Canva.
​
The demands on executives can often mean the hours are long, hard, and stressful for their assistants. Administration and support roles can quickly become overwhelming, but by fine-tuning your processes and making use of programs, apps, and websites that are readily available to you, you should be able to manage your time better and increase your productivity.